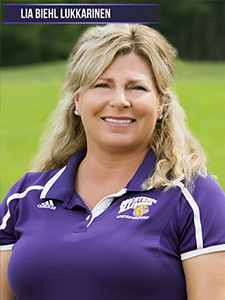 Lia Biehl Lukkarinen is an LPGA and PGA Class A Golf Professional with over 20 years of teaching and coaching experience. Her instruction includes golf fitness while using leverage and flexibility to keep the golf swing as simple as possible. Video, launch monitor data, and on‑course instruction incorporate all facets of golf improvement. "I'd like every golfer to 'find their game' to maximize their enjoyment on the golf course!"
Lessons: Short game, long game, or on-course strategy sessions are tailored to your golf goals:
$65 per appointment; $325 for a series of six
2-person sharing lesson, $40 per person
Junior lessons: $30 per appointment
Director of Golf and Head Men's and Women's Golf Coach Lia Biehl Lukkarinen was a four-year letter winner and team captain for the Illini from before spending two years on the Futures Tour as tournament winner and top six on the money list. After her success on the Futures Tour, she spent one full season as an exempt player on the LPGA Tour, playing in 20 events. Biehl Lukkarinen has 20 years of experience as a golf instructor; her career started as head instructor for the golf academy at Eagle Ridge Resort in Galena, IL. Then she spent three years as a teaching professional at Kansas City Country Club and was Director of Golf at Oak Terrace Resort in Pana, IL prior to joining the staff at Western Illinois.
Biehl Lukkarinen is a long-time member of the PGA and LPGA and holds a Bachelor of Science degree in finance from the University of Illinois and a Master of Science Degree in Sports Management from WIU.
WIU Driving Range Pass
The WIU Driving Range offers the best in practice facilities in western Illinois. The huge bent grass range tee, practice holes, putting green, and sand bunker give the serious golfer the ideal environment to improve his/her game. Unlimited access to these facilities allows the beginner a great place to start.
Cost: Junior: $300