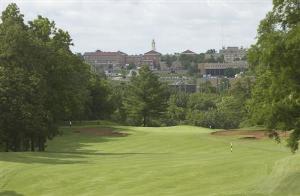 The first course at Western Illinois State Teachers College was built on the lawn of Sherman Hall. It consisted of three rather short holes.
During the 1940s, the Western Illinois Teacher College expanded, and a 56-acre tract of land was purchased for the development of a new 9-hole golf course. The course was built on the northwest edge of campus. This course, commonly referred to as "Doc. Beu's Course," served the college for more than two decades. The need for land to further develop and expand the campus of Western Illinois University in the late 1960's created a necessity to move the course once again.
In 1970, the current 9-hole course was designed and constructed on University farmland just north of the Lamoine River. The course officially opened in 1972, and in 1973, the course was named in honor of Oscar L. Champion who coached the golf team from 1934-1943.
In 2001, the back 9 was added with a gift from Leatherneck golfer Eric Gleacher. The back 9 was named the Eric Gleacher 9 and the entire course was renamed Harry Mussatto Golf Course after Coach Harry Mussatto. Harry coached the Western Illinois golf team from 1950-1985. Under his leadership Western won two NAIA Championships and captured 55 team tournament titles, including 22 conference championships.
The Harry Mussatto Golf Course at Western Illinois University has been serving the campus community and the city of Macomb for over 50 years. It stands as one of the finest 18-hole golf facilities in the state of Illinois. The golf course was designed by Ken Killian and Dick Nugent, two of the finest golf course designers in the business. The facility features teaching stations which include a driving range, putting green, practice bunker, and two practice holes. The golf course currently serves a variety of clientele, providing instructional recreation services for the students at Western Illinois University along with the campus faculty and staff. In addition, the Harry Mussatto Golf Course is host to the WIU Men's and Women's Golf Team as well as many golf outings and events. The golf course is the primary public golf facility in the city of Macomb.